Dealing with sloped gardens – five things to consider before you start
2
Written by Lisa on 25th Jan 2016 in
Design Tips
I've just started working with a new client who has a small but tricky garden because it slopes quite steeply and there are two pine trees that are subject to a Tree Preservation Order (TPO).
Sloped sites can be tricky to deal with, but they often provide the scope to be much more interesting.  Planning is key with any successful garden design and construction but I thought it might be helpful to give you a few key things to think through before you bring in the diggers…
Survey the site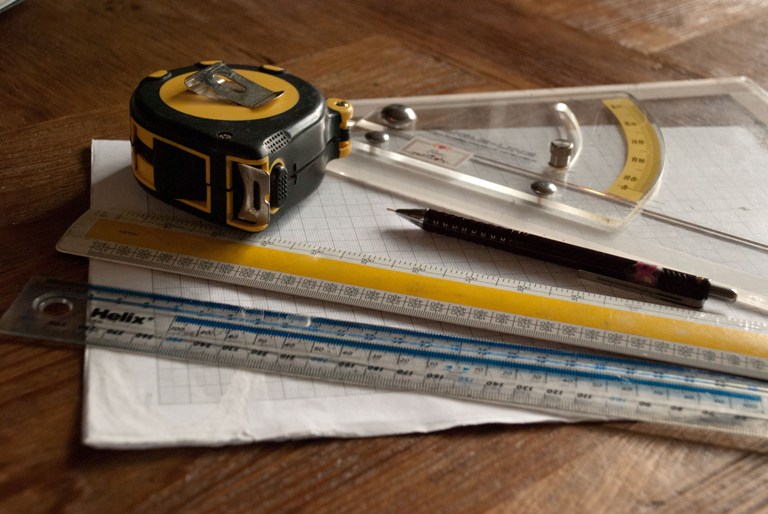 This is often the element of the design process that people question, but the fact of the matter is that without knowing what's there now you'll always be on the back foot.  This is especially true when you have tricky levels to deal with as you need to know the height difference from one area to another if you are to come up with a coherent design that works both on paper and on the ground.
You can hire level reading equipment but it's worth getting a professional surveyor to carry out a full topographical survey of the site if you want it to be super accurate.  It will be money well spent!
Cut and fill

Cut and fill is the technical term for moving soil from one area to another without the need to take soil off site.  If you want to make a steep slope more usable then you'll probably want to terrace the site so that you have a series of flat areas.
Removing soil from site will cost money so if you can cut soil from part of the slope and use it to fill in a void then you'll not only make your garden more practical, you'll avoid spending unnecessary cash.
Retaining structures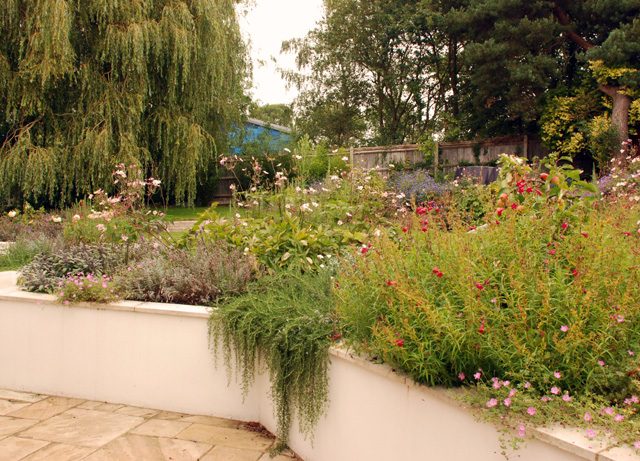 If you're terracing a garden and moving soil around the chances are that you'll need to retain some of the soil.  Retaining structures need to be built to withstand both vertical and horizontal surfaces and be appropriate for the soil conditions on site.
A retaining wall constructed on heavy clay, for example, will need bigger foundations than one built on a free-draining sandy loam so it's important to ensure that anything you construct in the garden is fit for purpose.
There's nothing wrong with slopes
It's possible to lose a slope in a planting bed or even on a lawn.  For example, a lawn with a gentle slope over a large area can help to ease the amount of groundworks required to make the garden more usable, it doesn't have to be completely flat.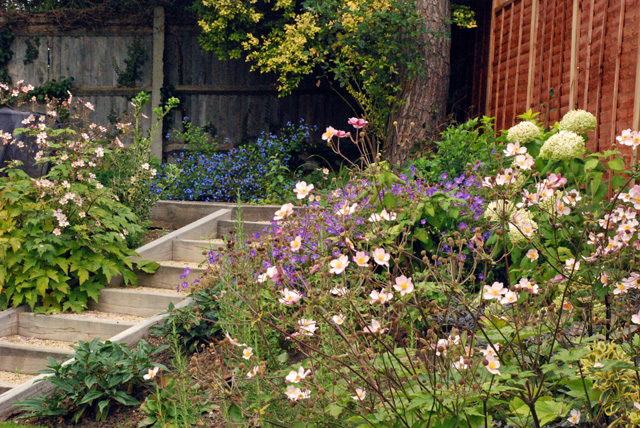 Flowerbeds can be more steeply sloped as the plants will eventually hold up the soil with their root systems.  For steep sloped is can help to bed sleepers into the slope to help prevent soil erosion.  Eventually these will be hidden by the plants.
This is a much more cost effective way of dealing with changes in level although you will need to consider how you get from one area to the next and any steps will need to be constructed properly if they are to stand the test of time and create a safe passage.
Drainage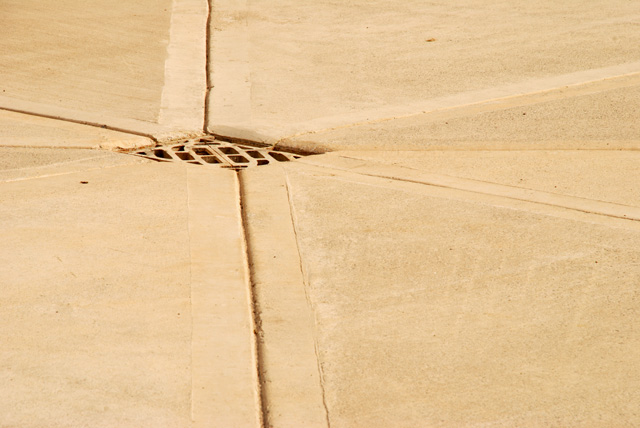 Drainage is important with any site, but if you're moving soil around and changing the way the levels work you'll need to think carefully about where the water goes.  Sites that slope towards buildings will need more careful consideration to ensure that all paving is laid so that water runs away appropriately.
Gardens with terraces that are lower than the rest of the garden tend to have retaining structures surrounding them and this in effect creates a "swimming pool" arrangement.  Take the time to plan the drainage before you start work so that you [hopefully] don't have any nasty surprises later on.
2 Responses to "Dealing with sloped gardens – five things to consider before you start"