Designing Your Own Garden: Surveying & analysing the site
0
Written by Lisa on 7th Sep 2011 in
Design Tips
Hopefully you saw my post last week about taking the brief and you're now ready to get started with the design.  Before you can put pencil to paper you need to spend some time looking at the site so that you know its possibilities and constraints.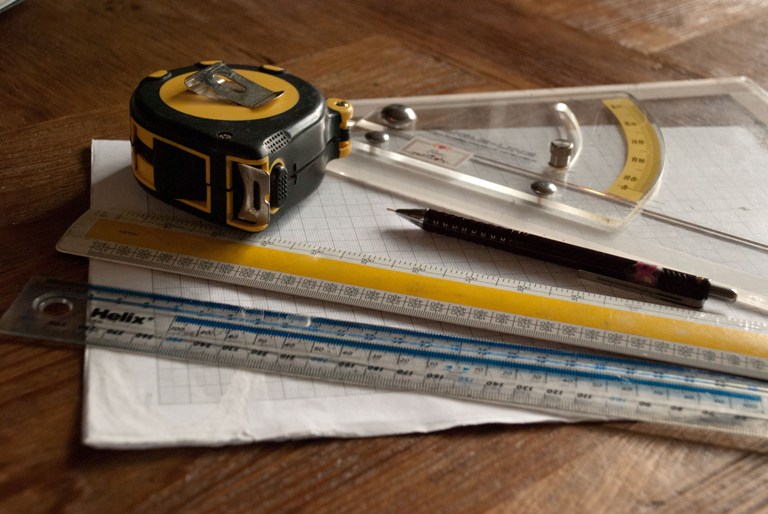 In order to do this, you'll need to carry out a survey of the site and draw it up at a workable scale.  For smaller gardens 1:50 is a good scale to use (2cm=1m) and for larger gardens 1:100 will be easier to work with (1cm=1m) although it will very much depend upong how big your sheet of paper is!  There are various books available, written by Garden Designers, that give you detailed instructions about carring out a survey, so rather than give you a blow-by-blow account here, I want instead to give you some tips that will help you with the design when you get to it.
1. Start your measurements along the house wall detailing the location of windows and doors.  Thse will affect access points to the garden and will also provide information about garden views from inside the house.
2. Make sure you triangulate your measurements so that you can be sure that the boundary fences are plotted correctly – an apparently regular plot is unlikely to be truly rectangular in shape nor is the house likely to be square to the boundaries.
3. Accurately plot any existing elements that you wish to keep – the shed, side access path etc.  This will help you later when you're formulating the design.  It is also important to calculate any changes in level so that you know where, if any, you'll need to introduce steps or retaining walls.
4. Take a note of the problem areas – corners exposed to prevailing winds, areas of the garden where it's a challenge to get anything to grow, hot dry areas etc.  This will help you when you start to plan the layout of the garden.
5. Test the soil and analyse it's structure – there are many test kits available in most garden centres.  Take samples from several locations around the garden as it can vary within the same plot.
6. Take a compass reading of the site – this will help you later when planning your planting scheme as you'll be able to work out which parts of the garden will be sunny at which parts of the day.
Carrying out your own survey will really help you to understand the site as it forces you to get into every corner.  You'll find it easier if you can rope someone in to hold the end of the tape and if you can draw it up as you go along it will ensure that you can check measurements as you go rather than trying to piece everything together at the end.