Designing Your Own Garden: Working up the design
0
Written by Lisa on 14th Sep 2011 in
Design Tips
If you've been reading my recent blog series about designing your own garden hopefully by now you'll be feeling much better equipped to take the brief, survey and analyse your site and start work on a concept design.  Once you have a sketchy conceptual idea and the design of your new garden is really starting to take shape, it's time to start thinking about the details.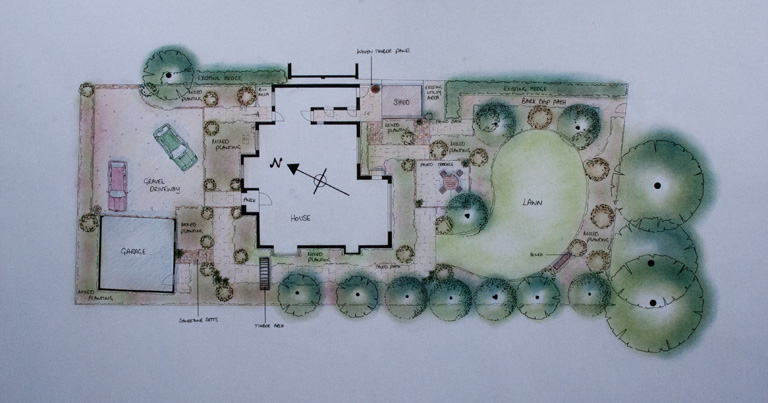 To turn your concept idea into the finished design is going to take some time and thought, but your efforts will be worth it when you can look back and see what you have created.  Whatever style of garden you are creating, whether that be a formal contemporary town garden or an english country garden, you will need to go through the same processes to move the design forward.  During the concept design stage you will have mapped out "zones" for each area and now it's time to think about the detail.  You need to plot the position and sizes of each garden element e.g lawn, terrace, arbour etc and you'll also need to ensure that the garden features, hard landscaping materials, decorative elements etc fit in with the overal style of the garden.
I thought it would be helpful to take you through a few design principles that will help you to create a well structured garden…
1.  I've said this before, but I can't stress enough how important it is to design the garden from the inside out so that you are thinking about the lawn, the terrace, the pathways etc and the structure of these rather than the shape of the planting beds.   Having said that, it is important to allow enough space for the planting.  Beds should ideally be at least 1m in depth – anything smaller and you'll end up with one row of plants.
2.  The rule of thumb with pathways is that they should be 1.2m wide, especially with main pathways as this will provide enough space for 2 people to walk side by side comfortably and allow for any plants in adjacent beds to spill over the edge a little.  This might not be possible if you only have a small garden so if this is the case, try to give them as much width as space allows.
3.  When pathways meet a curved or circular lawn or terrace, make sure they run into the radius point of the circle they are joining otherwise they will always feel odd.  Where pathways meet square or rectangular plots they must always meet at right angles and be in balance with the space they are joining. If you look at the diagram below, the blue, green and yellow pathways all sit comfortably with the grey square in the middle, but the pink pathway is only just hanging on – it's not far enough in from the corner to feel connected with the space.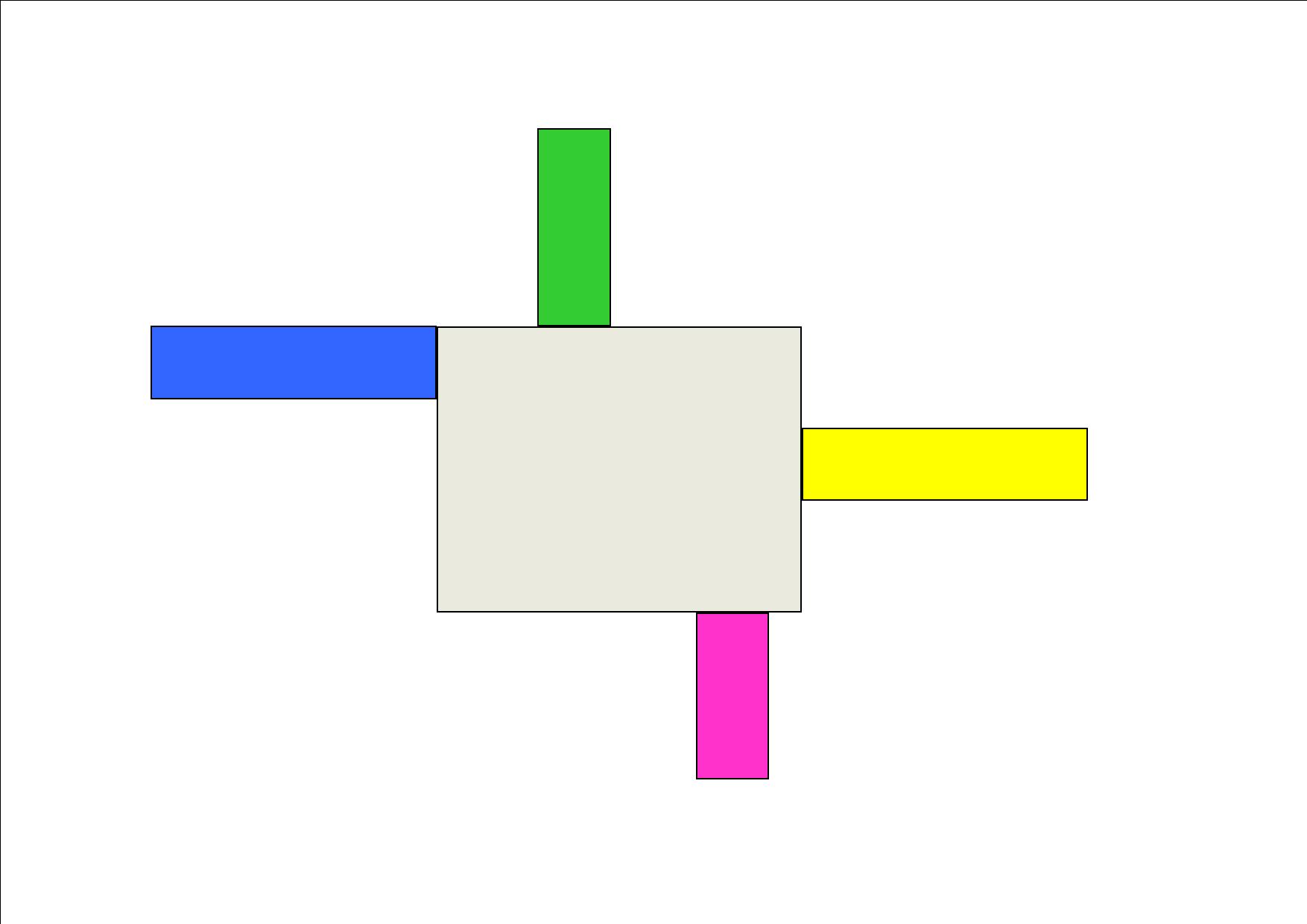 4.  Dimensions should be dictated by the materials you are using. You need to try and minimise the number of paving stones that you need to cut so if you take in to consideration the dimensions of the slabs you will use when you are designing, you can adjust the width of pathways and the size of your terrace so they fit exactly with the materials you are using.
5. Take care that planting beds don't end up with accute angles at the corners.  By this I mean that you need to have enough space to plant something in the corners.  Ideally the angle would be 45° or more as anything smaller means that you can't really accommodate a plant and the only thing that will grow there is unwanted weeds.
I could talk for much longer about basic design principles do do let me know if you'd like to know some more…