Rona and I hope you're enjoying our Flowers In Pots series.  Perhaps you've potted up your primula plants and agapanthus bulbs.
Our plan as part of the Flowers In Pots series is to also write a monthly post on the 'fundamentals', as in other things you need to consider when putting pots in your garden or home.
First of all, we'll be covering the different types of pots available on the market and today's post is about terracotta pots.
Terracotta pots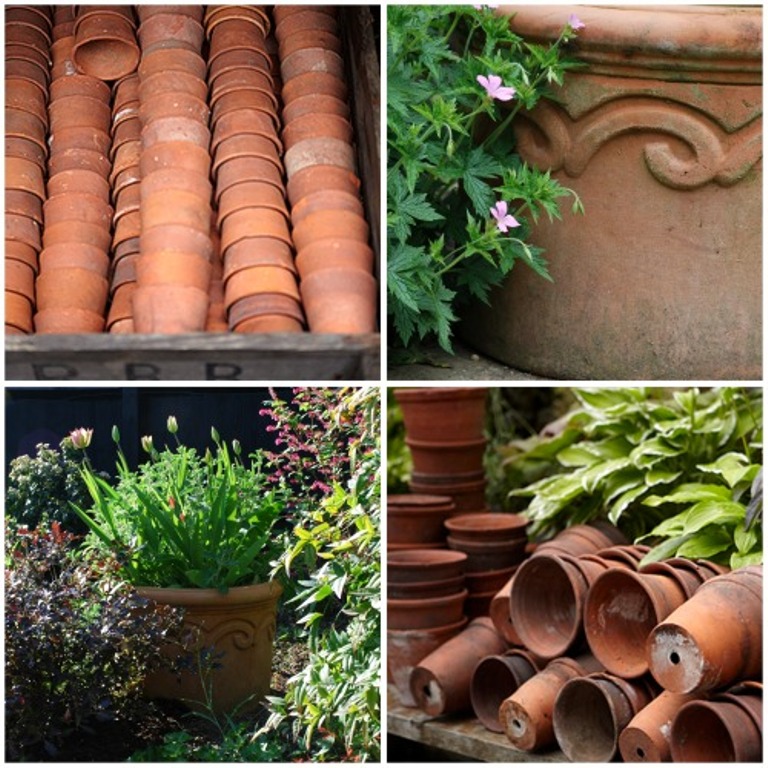 Terracotta, which means 'baked earth' in Italian, is refined clay and is probably the oldest of all container materials.
Pots made from terracotta are generally quite cheap and many of them are machine made, with practical purpose rather than beauty in mind.
However, there are also highly ornate types available which are either made on a potter's wheel or moulded by hand…and therefore command a higher price.
So, what are the advantages of using a terracotta pot?
They come in a large variety of different designs.
Their look improves with time, as they develop a patina with age.
Terracotta breathes which means that compost is less likely to overheat in the summer or become waterlogged in the winter, compared to a plastic container.
They are durable and will add weight and stability to a display, making them ideal for long-term planting.
They're attractive and complement a wide range of plants.
On the minus side:
Terracotta pots are brittle and will break if dropped.
Their porous nature means that compost needs to be regularly watered, as it will dry out more quickly than some other types of pots, like plastic.
Larger terracotta pots can be heavy to manoeuvre should you need to bring them inside during the winter or change your mind about their location.
There is a danger of frost damage, so it's best to buy pots with a frost-proof guarantee.
So if you've not had chance yet to pot up your agapanthus bulbs, terracotta pots would be ideal!
2 Responses to "Flowers In Pots: The Fundamentals – Terracotta Pots"