Planning a new planting scheme – some tips to help you get started
1
Written by Lisa on 5th Feb 2016 in
Design Tips
Now's a great time to be planning for what's to come in the garden and it seems more urgent this year with the rather early appearance of some of the spring bulbs.  Even on our windy hill we have Narcissus 'Tête-a-Tête' in flower already and primroses too, which have virtually been flowering since Christmas.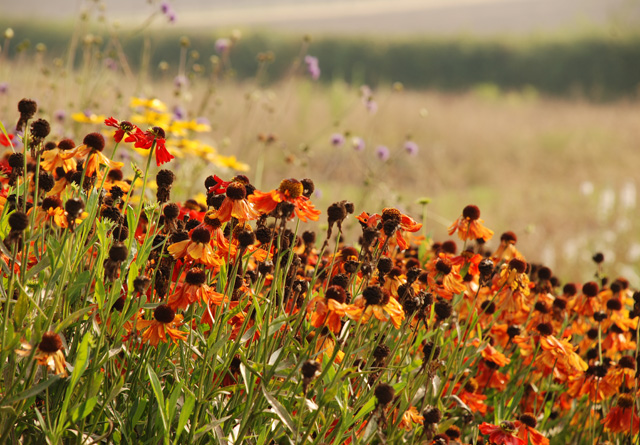 I hope that we're not being lulled into a false sense of what's around the corner as, in a way, I'd just like some of those crisp bright days rather instead of the mild wetness that seems to have been the feature of the year so far.
But whatever is around the corner, spring will be with us soon enough and so it's a great time to be working on planting plans so that you're ready when the spring does arrive and you can get outside planting.
Here are a few things to consider if you're planning to tackle a new planting scheme…
Know your site
Soil, aspect and drainage are the keys to getting the planting right.  You need to choose the right plant for the right place in order to create a planting scheme that will thrive. So, if you have a sunny expose site you know you're not going to be able to grow plants that are delicate or shade-loving.  You need to choose plants that are robust enough to withstand being exposed to the elements.
Shape, texture & form
Gardeners who love plants often get tempted by the delicate qualities of individual flowers, but when I'm approaching a planting plan first off I'm thinking about the plants I'm going to use in a different way.
I tend to consider the shape, texture and structure of the plant before I think about the colour of the flowers.  So I may not even know which plants I'm going to select at the very beginning.  Once I know what job I need the plant to do then I can successfully choose a palette of plants that will do the job I need them to do.
Colour
Colour is important as it absolutely affects the way we feel about our gardens.  Rich warm oranges and reds will give a much different mood than soft yellows, creams and purples so you need to consider the overall colour effect of the planting scheme if you are to achieve a harmonious planting scheme.
If you're mixing colours, try to choose those which have the same tone.  Thinking of the seasons will help you here.  For example, spring colours are generally warm and vibrant, think colourful swathes of spring bulbs which always look amazing together, or, if you're more drawn to pastels, think of roses and flowers with cool muted tones and the mood you'll create will be much calmer and serene.
Use tried and tested plants
This may be stating the obvious, but using plants that you know are robust will make for a much more successful planting scheme.  Using plants that have been awarded the RHS Award of Garden Merit (AGM), will stand you in good stead as it's the RHS's seal of approval that the plant performs reliably in the garden.
Buy some big things
Shrubs and trees will take much longer to reach maturity that herbaceous perennials so it's always a good idea, if your budget will stretch, to invest in a few larger things from the off.  Herbaceous plants generally establish within a year or two of planting whereas trees and shrubs in some cases need up 10 years or so to make an impact.  Buying a couple of specimen-sized shrubs or trees will make an impact from the word go, so it's worth the investment!
One Response to "Planning a new planting scheme – some tips to help you get started"