Why Are The Areas Around Your House So Important?
0
Written by Lisa on 17th Dec 2010 in
Design Tips
My most recent commission is to produce a concept design for a couple who live in a gorgeous cottage near Ockley.  Initially, they called me in because they wanted to discuss the terrace area at the back of the house, so you might be wondering why I have now been commissioned to look at the whole garden?
Well, because, although the areas that immediately surround the house have to work in their own right, they also have to link the house to the rest of the garden.  If I don't design the terrace with this in mind, it will never feel as though it flows into the next space.
The first job was to survey the site as it is only when this has been done that I can get a feel for the space, how the house sits within that space and what shape it is.  Gardens that feel rectangular, more often than not, are far from rectangular, so the survey is crucial if I am going to make the garden really work with the house and what lies beyond the boundaries.
Once I have analysed the site and worked through the existing dimensions and levels I am able to really feel how the garden works (or doesn't work!) currently, and how best to move the design forward.   The levels around the house in Ockley are quite complex so I know that I will need to spend time working through these if I am going to create a more cohesive space.  This is the current terrace…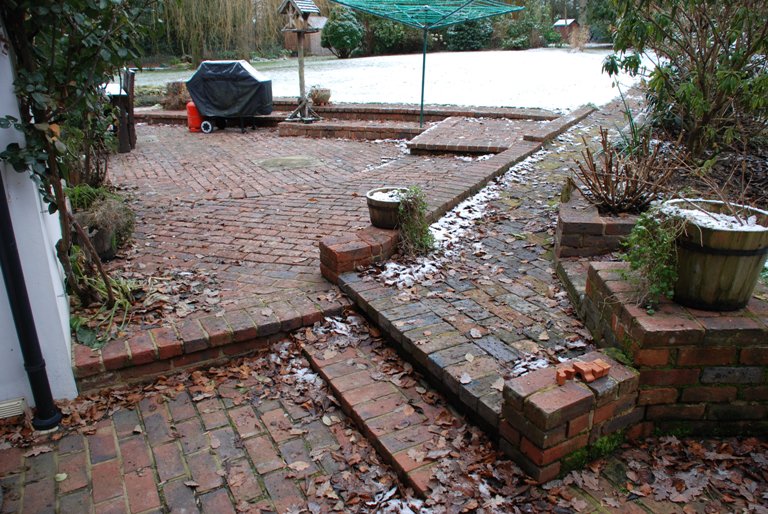 As you can see, there are so many steps and changes in level that the terrace just doesn't connect with the house or the garden.  Any changes in level should be simple and easy to navigate and once I have worked through a Concept Design for the whole garden, I will then detail the areas around the house so that the landscaper can transform the design into reality.
Look out for future blog posts for this project and I will do my best to show you exactly what I mean!