Chelsea Flower Show 2011…From Luciano to Monaco
2
Written by Lisa on 26th May 2011 in
Inspiration
After being glued to the BBC coverage of the Cheslea Flower Show since Sunday I finally got to see everything in the flesh yesterday.  I always get there when the gates open so that I can take in the show gardens at my own pace without having to wait forever to have even the slightest chance of a front row seat and there was so much inspiration to wallow in yesterday that my early wake up call was a distant memory by the time I'd normally be making my mid-morning cup of coffee.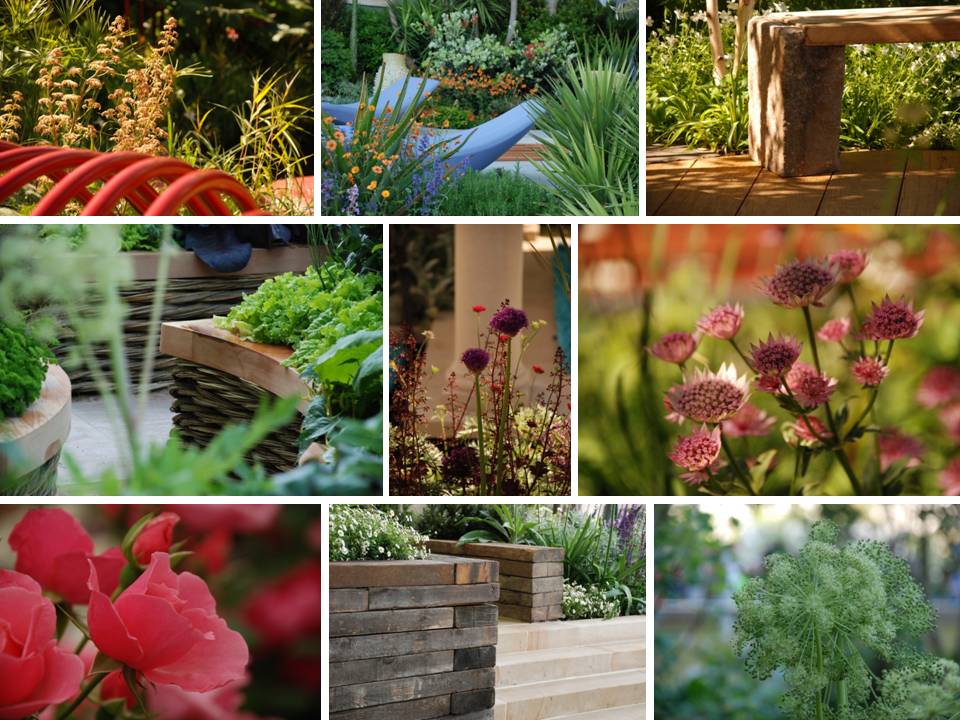 Some of the show gardens this year were simply stunning.  The Laurent Perrier garden designed by Luciano Giubbilei (below) was one of my favourites. Strong simple design, perfectly balanced.  The natural stone, timber and aggregate worked together perfectly and the whole garden was held together by the beautiful harmonious planting.   I knew a little bit about this garden before the run up to Chelsea because I am good friends with the joiner who made some of the timber elements in the garden – I was so looking forward to seeing it…and I wasn't disappointed!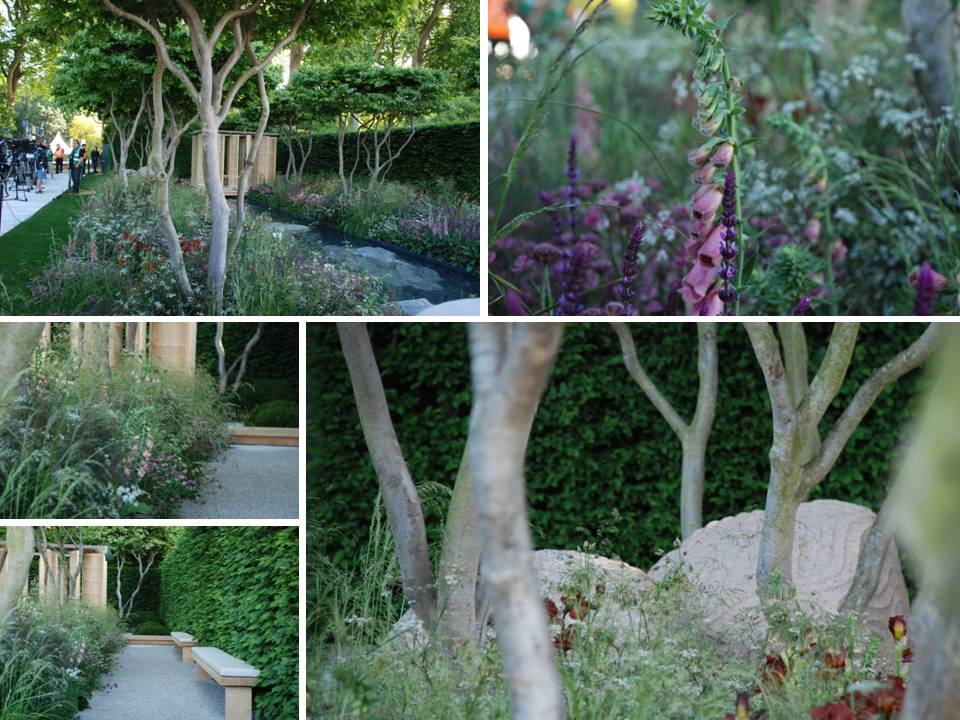 This year's Best In show Garden was designed by Cleve West for The Daily Telegraph.  I'd seen it on TV and heard about it too, but it wasn't until I saw it in the flesh that I really got why it was deemed to be the best garden of the show.  Everything about the garden just worked.  The design was strong and 3-dimensional with amazing attention to detail – it worked from every angle.  The planting too was brilliantly put together, the overall calm feel created by the way the structure and colour of the plants had been placed, and then there were little pockets of drama that somehow demanded attention without distracting you from the rest of the garden, like the Dianthus in this top right hand picture…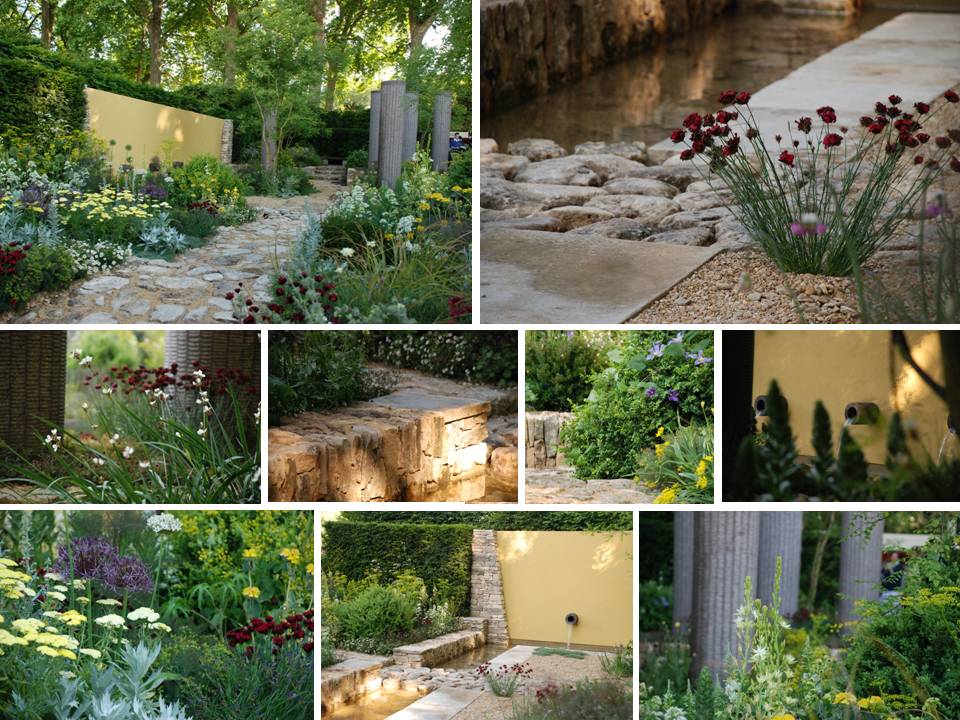 Sarah Eberle's Monaco garden was also one of my favourite large show gardens.  Spatially it worked really well and I loved the fact that you couldn't see the whole garden from the front, you had to walk round the side to get a real sense of how the space felt.  The contrast between the timber, stone and aqua blue of the swimming pool was fantastic and the planting was vibrant and perfectly pulled the whole garden together.  I was completely transported to another place.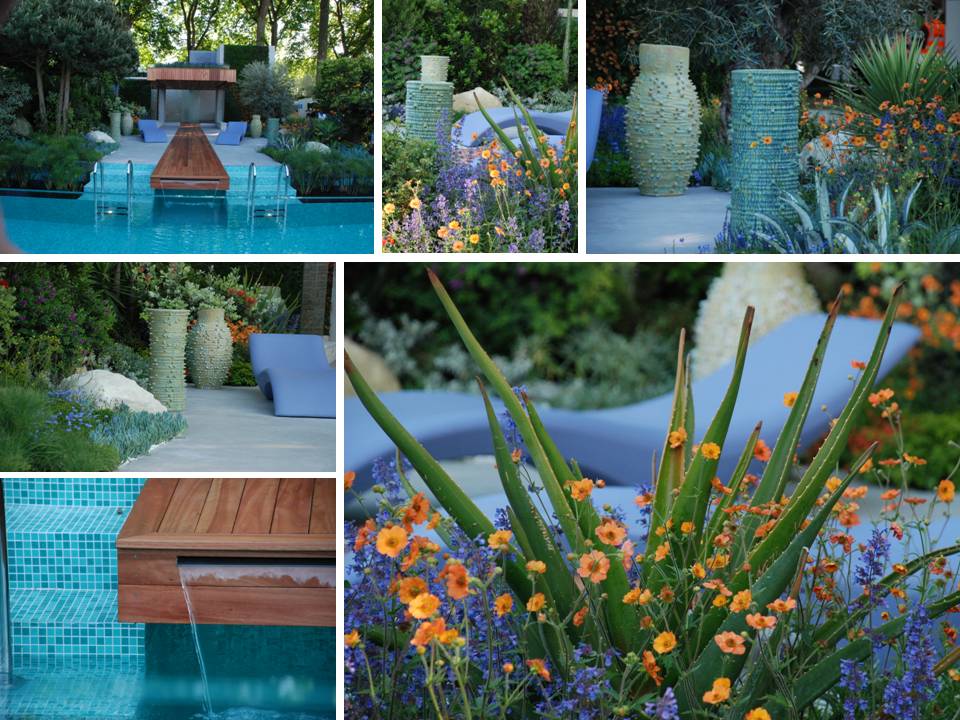 I couldn't possibly write everything that inspired me in one post – well I could, but it would be FAR too long….so I'll be back tomorrow with a few more highlights.
(Photographs: Lisa Cox)
2 Responses to "Chelsea Flower Show 2011…From Luciano to Monaco"