The Final Day of The Chelsea Flower Show
2
Written by Lisa on 28th May 2011 in
Inspiration
It's the final day of the 2011 Chelsea Flower Show today.  The last visitors will be enjoying the show gardens, floral displays and the Great Pavillion and then later this afternoon the big plant sell-off will start, which in turn will cause chaos on the tube and trains as people attempt to get them home in one piece!
Over the next week I will be sharing some thoughts on how you might be able to translate some of the design ideas and inspiration from the show gardens into your own garden, but I thought today I would show you a last snapshot of my highlights of the show.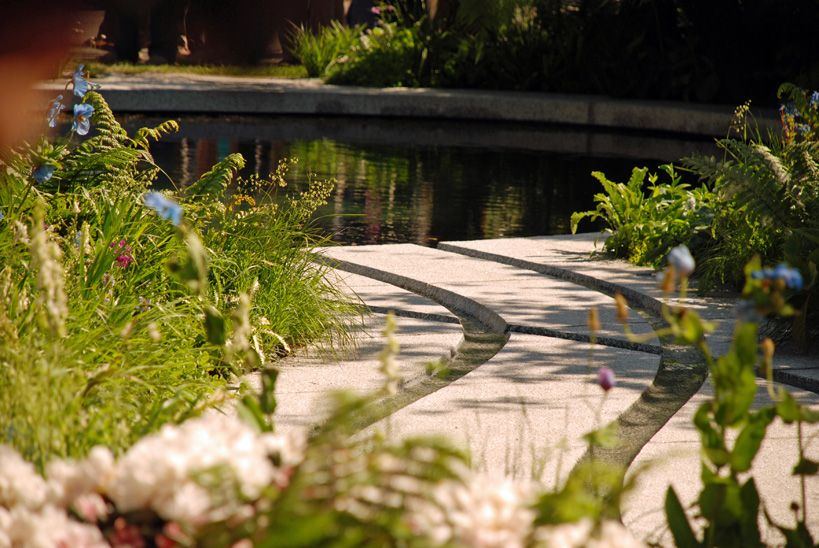 I thought the Homebase Garden was wonderful.  Created by Thomas Hoblyn, the design was inspired by Bodmin Moor, the rock pools and beach streams of the Cornish coast and the gardens at Trebah and Trewithen.  I loved the way the water streams flowed through the pathway to the pool below.
As I said last week, I am always looking for new and inspiring ways to use materials.  These slate tiles on edge look fantastic – I have seen them used before as a paving material, but I think the way they were used here on top of the stone wall looked gorgeous.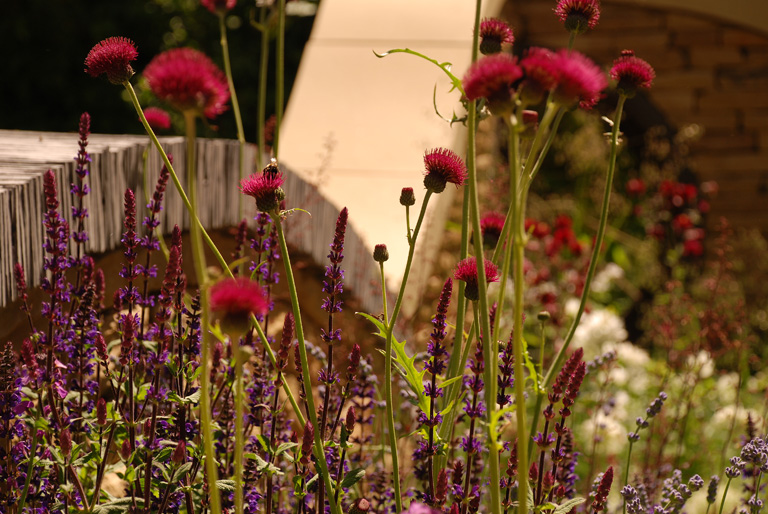 These timber walls looked lovely too, much  more elegant that normal sleeper walls.  The sleepers had been sliced in two lengthways which gave a less chunky finish while still maintaining the rustic feel.  Against the contemporary smooth finish of the paving they look fabulous.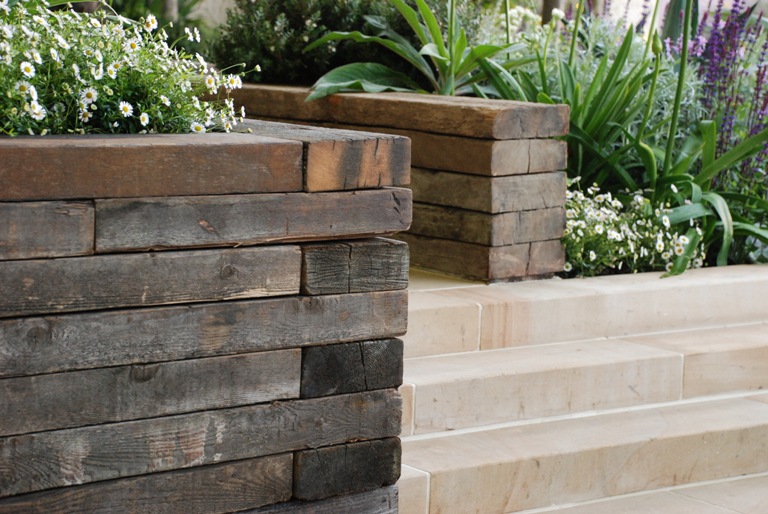 There seemed to be a real trend for dry stone walls this year.  I love the rustic natural feel of stone, but it can be used in a more contemporary way by using thinner pieces of stone.  Here are a few images of the different ways it was used across the show gardens.  Cleve West (top left picture) has used the stone on edge which gave the wall a different feel.  The pillars at the end, with the stone laid horizontally, anchored the corners and balanced the space.
I hope you've enjoyed my highlights of the show.  Do join me next week for my tips to help you translate some of the show garden design ideas into your own garden.
2 Responses to "The Final Day of The Chelsea Flower Show"