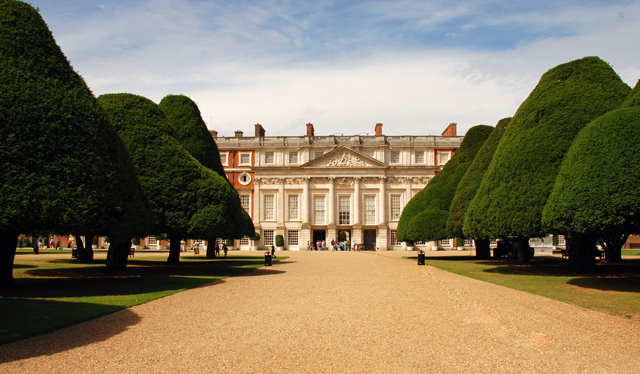 On Wednesday I spent a lovely morning at Hampton Court Palace garden with Rona Wheeldon of Flowerona.  As you know, I covered the RHS Flower Show last month, but I haven't been to the palace gardens for years.
Some of the palace grounds are free to enter, including The Rose Garden.  The weather was lovely yesterday so there were a few people enjoying a picnic in The Rose Garden.  A lot of the roses had finished, but there was still a heady scent of perfume as we walked round.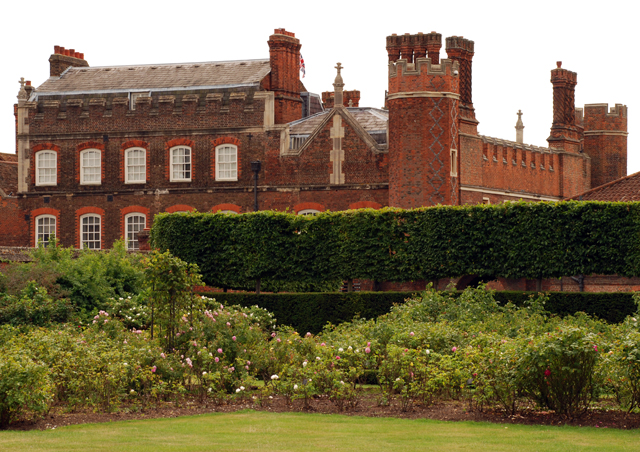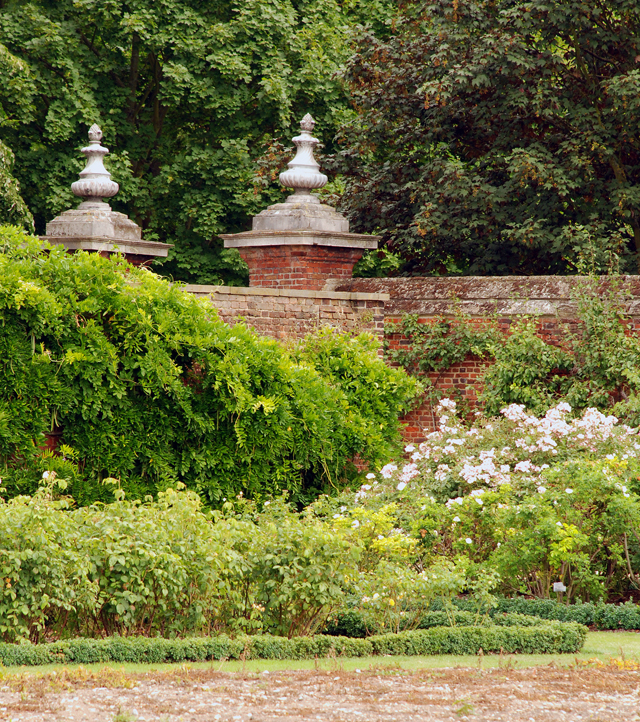 I think this statue is beautiful…even despite the nose job she's obviously had at some time!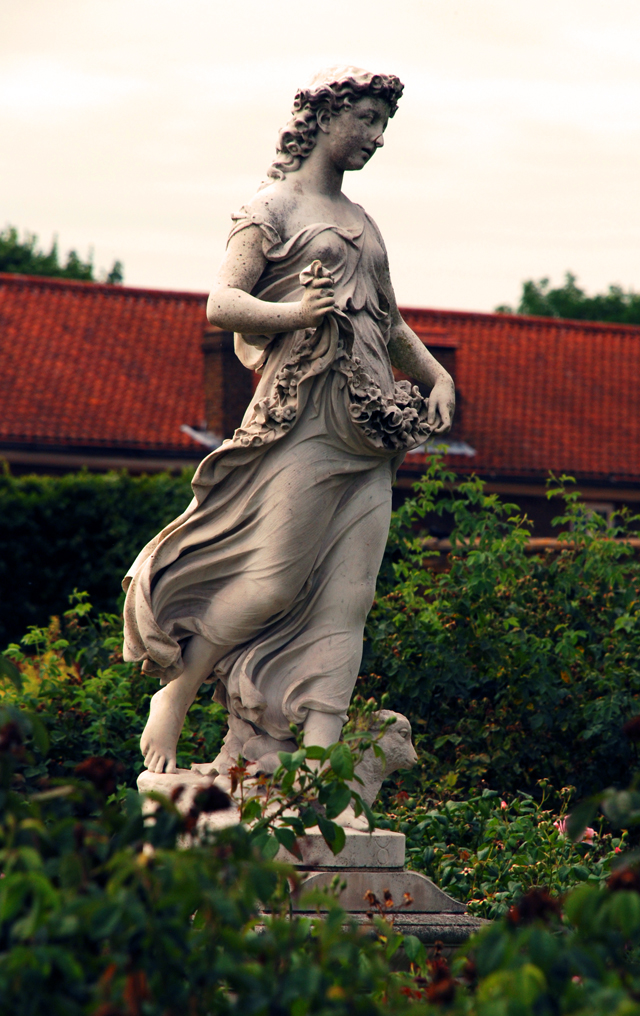 The more formal areas at the back of the palace were looking amazing.  The clipped yew trees are iconic and so beautiful.  If you watched any of the coverage of the Surrey Classic cycle race last weekend then you may have been lucky enough to see an aerial view of the grounds.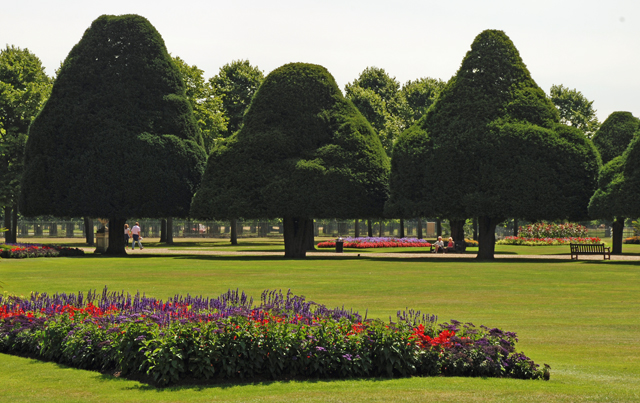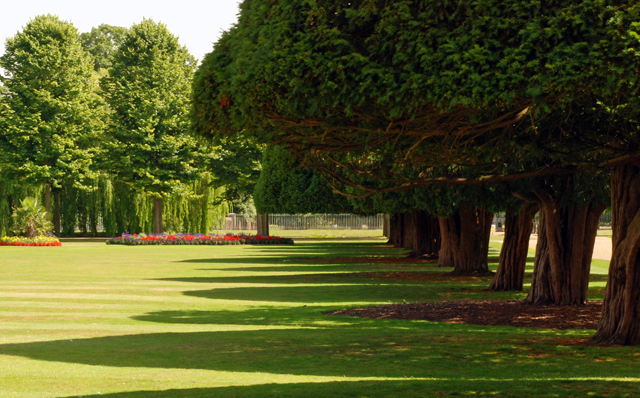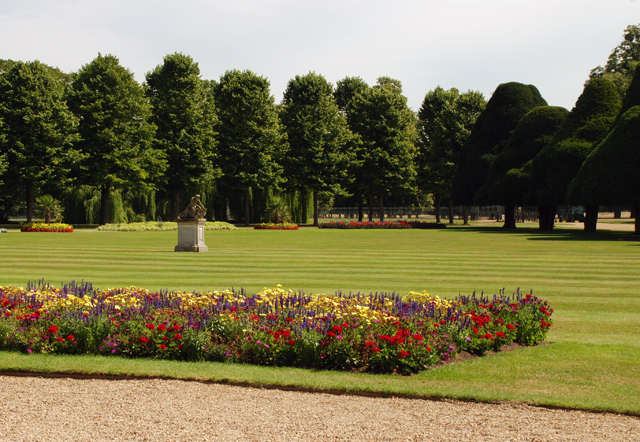 And although the municipal-style planting around the lawn isn't really my cup of tea, somehow it works perfectly in this formal environment.  The bright splashes of colour really lifted our spirits.
The herbaceous borders run along an old brick wall either side of the palace.  Some of the flowers were going over, but the helenium, rudbeckia and dahlias were warm and vibrant and stole the show.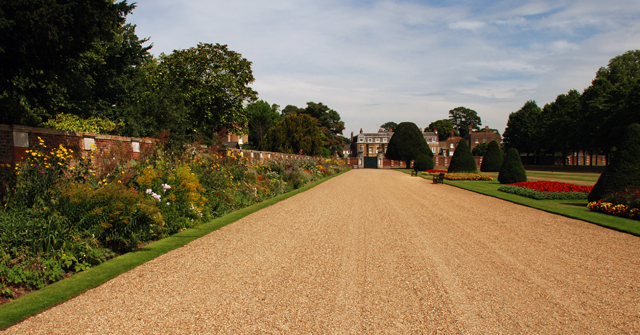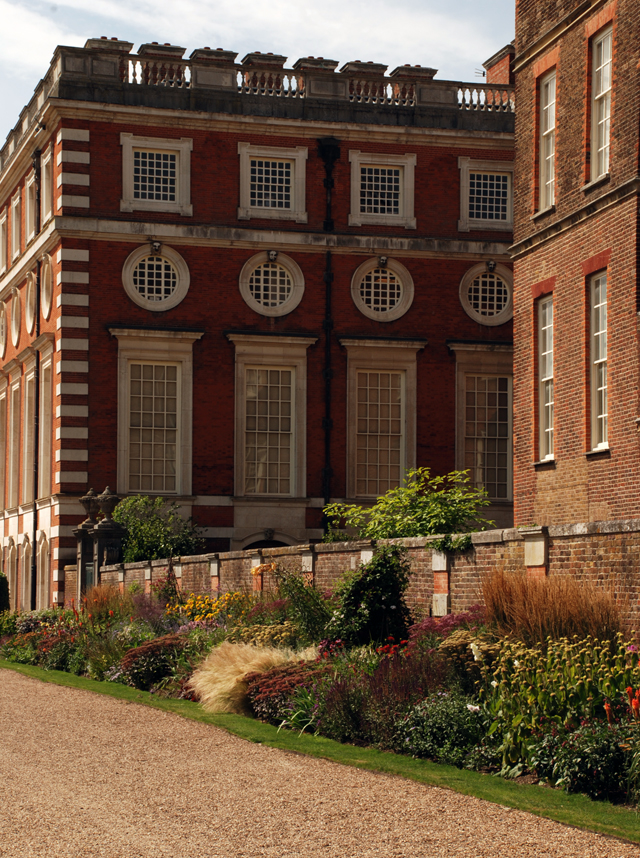 I love the interesting architecture at Hampton Court.  The detailing is amazing and each side of the palace has a different look and feel.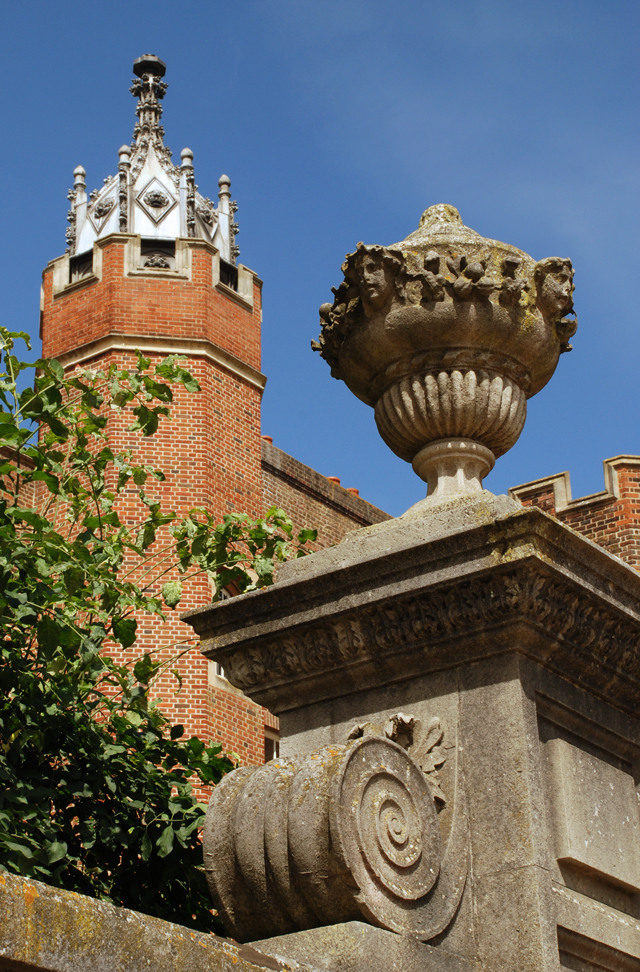 Look at this incredible brick retaining wall – functional and yet so beautiful and still standing after all these years…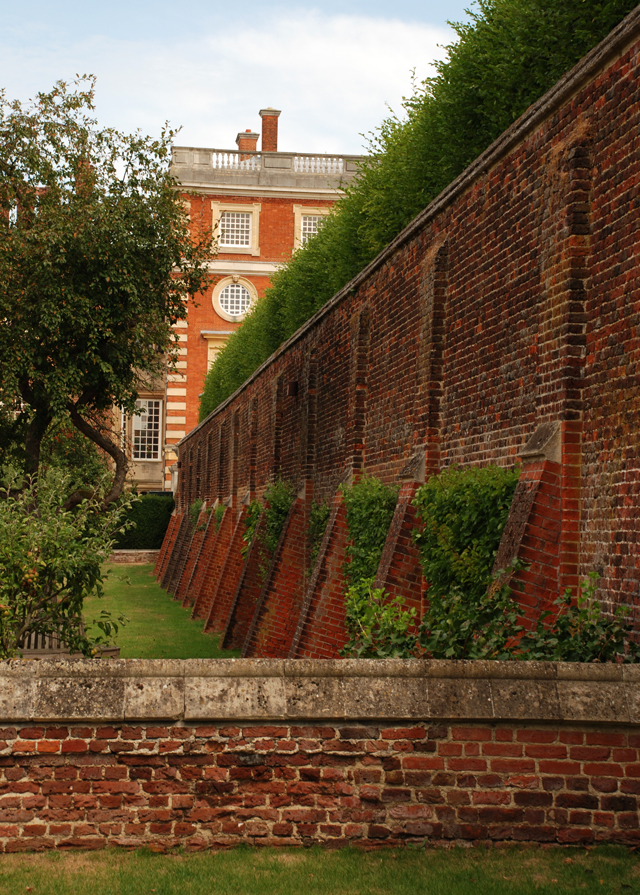 The Privy garden was restored a few years ago.  So much was recorded about the original garden in 1702 that the reconstructed garden accurately reflects how it would have looked for William III.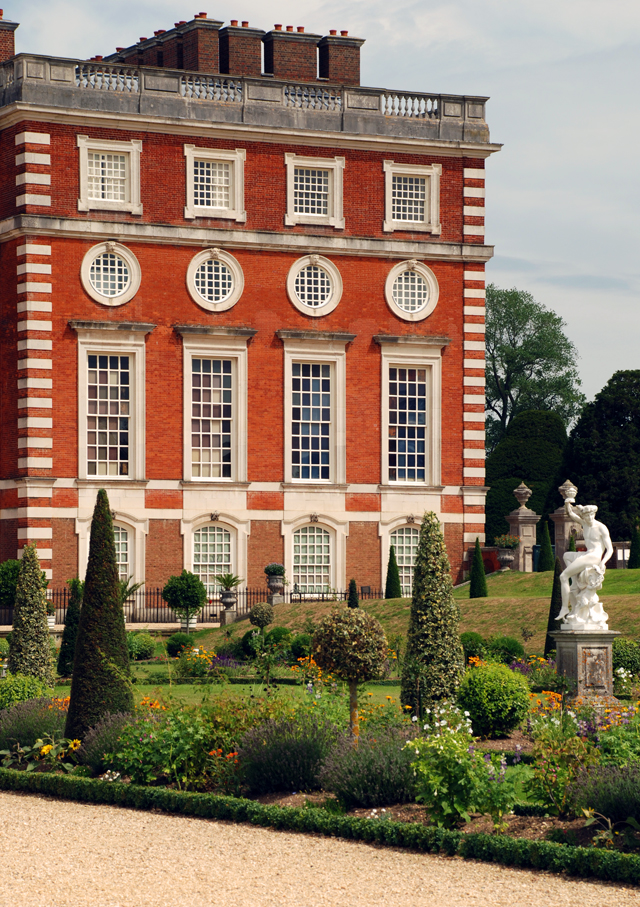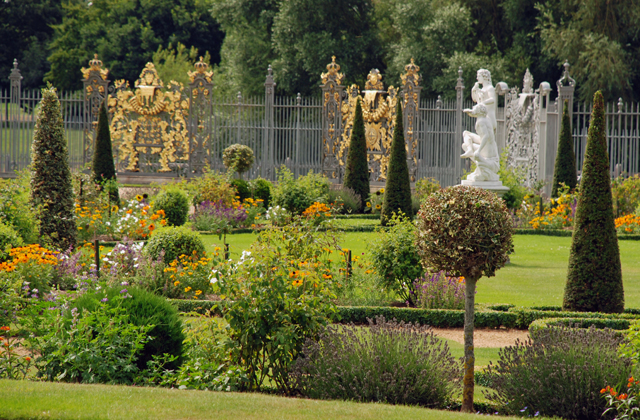 The Pond gardens at the side of the palace were full of colour too.  Again bedding plants had been used to create an impact which, without the formal structure of the clipped topiary and pleached hedges, might have been too much to take in.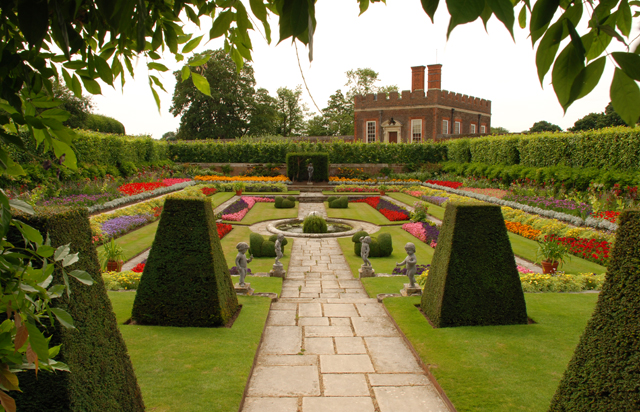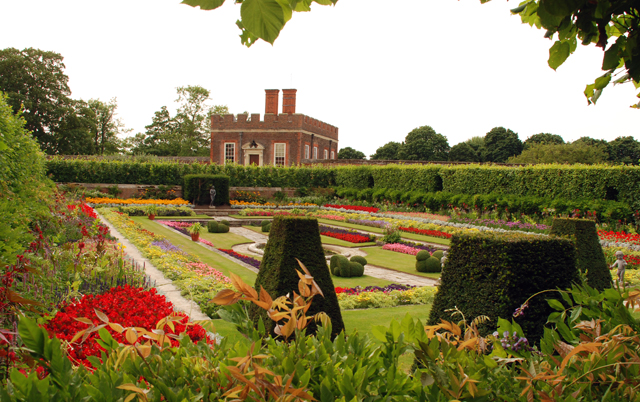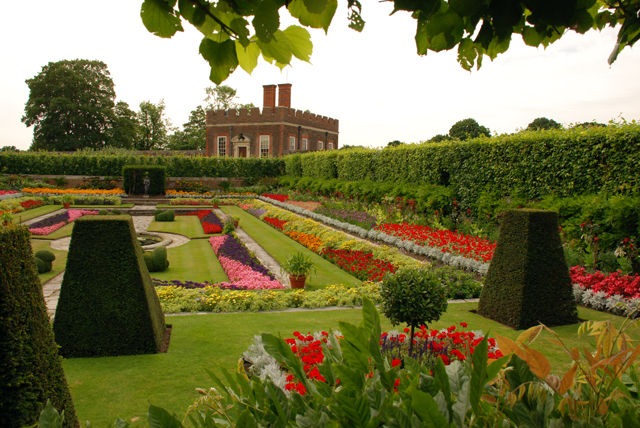 The other pond garden was slightly more reserved…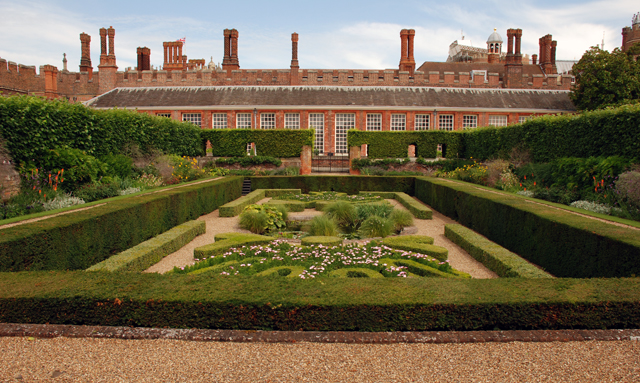 There were plenty of lemons on the trees in the lower orangery courtyard garden, I guess because it's been so hot here this year.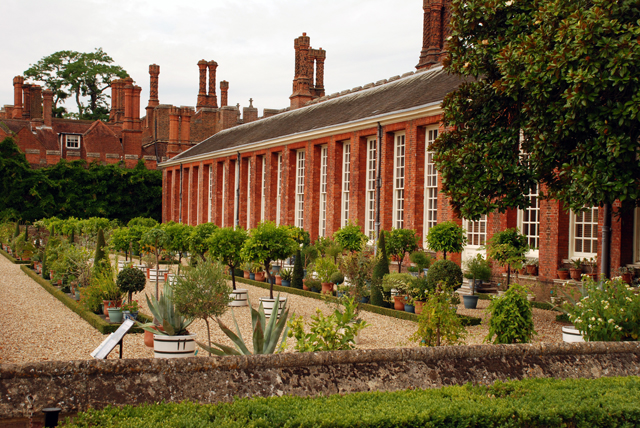 I hope you've enjoyed looking through the pictures.  I'll leave you now with this very inviting image of the horse drawn carriage which takes visitors around the grounds…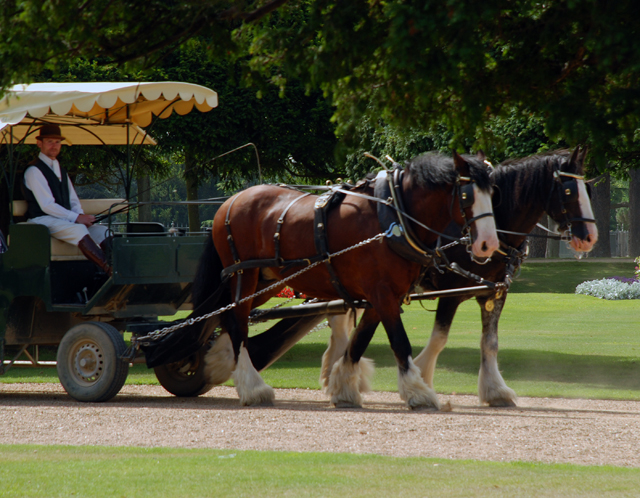 For details about visiting, or to learn more about the history of the palace and gardens, please visit the Hampton Court Palace website. 
(Images: Lisa Cox)