Looking forward to RHS Chelsea Flower Show 2014
0
Written by Lisa on 21st Feb 2014 in
Inspiration
It might seem a bit early to be talking about the Chelsea Flower Show, but the designers and exhibitors will by now be counting down the weeks and making sure everything's in place ready for the build up.  By the time the show opens on 20th May, each garden will have been in the making for well over a year.
You'll probably know by now that I love Chelsea and the inspiration that I get from it so I thought I'd share a few of the gardens that I'm looking forward to seeing at the show…
Vital Earth The Night Sky Garden
Designed by Harry & David Rich, sponsored by Bord Na Móna and built by Rich Landscapes
I met Harry Rich at the RHS Cardiff Flower Show where he won Gold and Best in Show for his Naturalistic Garden.  He and his brother also won Gold for their Artisan Garden at Chelsea Flower Show last year so I'm looking forward to seeing their first garden on Main Avenue this year.
No Man's Land: ABF The Soldiers' Charity Garden to mark the centenary of World War One
Designed by Charlotte Rowe, sponsored by Bechtel, Coutts and built by Brian Herbert, Outdoor Options

This garden acts as a metaphor for the effects of war on the human body and spirit and our capacity to recover and heal.  Charlotte is writing a diary about the creation of the garden if you want to learn some more (see link below).
Hope on the Horizon
Designed by Matt Keightley, sponsored by David Brownlow and built by Farr & Roberts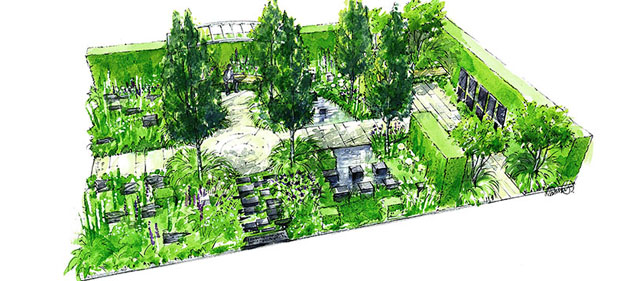 This garden represents the process that servicemen and women go through on the road to recovery and is designed to support the charity Help For Heroes.  I love the structure of this design!
Artisan Garden "The Topiarist's Garden
Designed by Marylyn Abbott and sponsored by Zenith44

I love a bit of topiary and the sketch of this garden which I can imagine in the flesh already!
Fresh Garden "Fabric"
Designed by Chris Deakin & Jason Lock for House of Fraser

This garden takes the concept of a room outside to another level.  Outdoor fabrics and photo wraps will literally create a lounge outside.
I look forward to sharing my photos of these gardens when they come to life but I hope you've enjoyed this small preview.  Which gardens are you most looking forward to seeing at the show?
(Images: The RHS)
Charlotte Rowe's Chelsea Diary